About This Project
Amphibians are both durable and sensitive, which make them excellent study organisms for environmental monitoring. Each of our study sites in the White Mountains of NH contain unique communities of amphibians. The funds from this campaign will allow us to conduct more frequent field research to document variability among amphibians from each study pond. Join us now to expand our research project in the White Mountains of New England.
Ask the Scientists
Join The Discussion
What is the context of this research?
Because of our surveys, we now have much more data on the species that occur in the alpine ponds of the White Mountains. Furthermore, we have found that tadpoles of the wood frog, Lithobates sylvaticus, from ponds above and just below treeline grow to much larger sizes prior to metamorphosis compared to their southern and lowland counterparts. At first, this may appear counter-intuitive because breeding is delayed due to the prolonged winter and colder temperatures. However, other research has documented larger larvae of amphibians from colder, high elevation ponds. Similar studies have yet to be completed in the White Mountains. Our preliminary results are promising and will likely reveal some unique population characteristics that will be important for future studies.
What is the significance of this project?
Identifying unique populations, then studying them carefully has been at the basis of ecological field work for centuries. It is a unique and important to determine how environmental variability influences amphibians in the New England region. Our research has already revealed two important results from the alpine populations: 1.) that frog calling is extended in alpine environments even though it starts later; and 2.) tadpoles grow to a much larger size, but develop relatively slow.
Understanding how amphibian development rates are influenced by environmental variables (temperature, wind, rain, predators, food) will be helpful to develop life history models for common species occupying variable habitats and benefit future research and monitoring efforts.
What are the goals of the project?
We will use remote digital recorders to compare species, calling intensities, and breeding duration from remote populations and continue to monitor these populations over multiple years.
Our field work will occur more frequently than in years past including mid- and late-summer to collect data on larval size and development. This work will partly focus on determining why the tadpoles from Lower Lakes of the Clouds lag behind the development of those from Upper Lake.

Our field team will include college students who will gain valuable field experience while contributing to research. Our team will provide public programs, presentations at scientific meetings and publish a manuscript in a peer-reviewed herpetological or naturalist journal based on this research.

Budget
Most of our research is low-tech, but small expenses can pile up over the course of a field-season. Although we have been studying these systems since 2007, progress has been limited mostly by our level of effort, which would increase provided for a modest stipend. Main costs are: stipend for field staff, frog call recorder (Song Meter), mileage (IRS Rate), accommodations (field stations/camping), food, and field supplies. Stipends are important for a professional level of work product.
Our team of 4 will work in groups of 2 to make 3-4 trips to 1 pond (covering 4 ponds). Song Meters will be installed at some ponds. Evaluations will include early season egg mass counts and general aquatic survey, followed by a July/Aug evaluation for mid-season tadpoles, and finally the mid-September trip to gather data on tadpole development rates, metamorphosis, and size ranges within each pond.
Endorsed by
Several of our Natural Resources majors have completed their required Practicum with Scott and his research projects at Wachusett Mountain State Reservation in the last few years. This has given them meaningful experience in field biology. Scott is also an adjunct here at MWCC, helping out with our Zoology course and developing a field biology elective for our students. We are fortunate to have such a dedicated researcher associated with our program and institution.
Several years ago I worked Scott Smyers on the climatological influences on frog breeding activity at Hermit Lake. I was impressed by the length of time that Scott has engaged in these amphibian monitoring efforts, and on very low budgets. The remoteness of the sites (more than halfway up Mt Washington), and the intensity of weather systems on the area, mean that the monitoring requires a lot of time and periodic repairs of equipment. Any support helps work continue on this important project.
Scott is a very capable scientist with a diverse background in ecology and conservation biology. We have collaborated on amphibian studies for ten years. These alpine ponds harbor numerous rare species, and are vulnerable to changes in regional climate patterns. Because the target amphibian species occur across broad gradients throughout the region and exhibit biphasic (terrestrial and aquatic) life histories, they provide a novel and ideal system in which to study the adaptive pressures of a severely constrained growing season.
Project Timeline
Four research teams will visit each of our four study ponds approximately once per month from May-September. The early season surveys will focus on egg mass identification and counting, while the later season surveys will document growth rates, development, and shape of tadpoles. End of the season visits will reveal differences in shape and development rates in terms of the tadpoles final milestone, metamorphosis. These data will be analyzed to quantify differences.
Apr 30, 2017
Installed Song Meter at Hermit Lake
May 24, 2017
Egg mass survey at Hermit Lake
May 24, 2017
Egg mass survey at Lakes of the Clouds (none)
May 25, 2017
Egg mass survey at Eagle Lake
Jun 08, 2017
Egg mass survey and begin experiment on eggs at Lakes of the Clouds
Meet the Team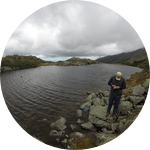 Scott Smyers
Vice Preisident and Senior Scientist
Affiliates
Oxbow Associates, Inc., Friends of Wachusett Mountain, Cambridge Entomological Club
View Profile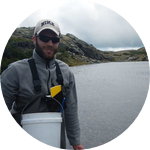 Kyle Cormier
Environmental Scientist
Affiliates
Oxbow Associates, Inc. and the Friends of Wachusett Mountain
View Profile
Team Bio
In addition to Scott and Kyle, our research includes a mother-daughter team who live near one of our research sites in New Hampshire. After some training, they have done a great job collecting data for us. This has been incredibly helpful to our research and an excellent opportunity for a motivated, local young lady. Furthermore, we work in partnership with Beyond Ktaadn, a non-profit with very similar interests (ecology of all things biological in the alpine zone).
Scott Smyers
I am a wetlands and wildlife consultant specializing in rare amphibian and reptile study and mitigation. I have studied the behavior and ecology of amphibian and reptile species native to the eastern United States for more than 20 years.
As a graduate student, I conducted laboratory and field studies of three species of pond breeding salamanders in southern Louisiana including Ambystoma opacum, A. maculatum, and A. talpoideum. I continue to work on independent research on the evolutionary biology and ecology of amphibians and reptiles throughout New England. My research interests include life history plasticity and population biology of amphibians, ecology of freshwater turtles, and the functional ecology of larval caddisflies in ephemeral ponds.
In addition, I have mentored over 20 students from local colleges on independent research projects and similar volunteer experience projects. Most of these projects are focused on amphibians, reptiles, or insects of Wachusett Mountain, MA. I have also worked with students from colleges in NH on the White Mountain project and regularly bring a student from a Wachusett project to the White Mountains. Colleges include: Mount Wachusett Community College, Fitchburg State University, UMass Lowell, Framingham State University, Plymouth State University, University of New Hampshire, and Granite State College. It is important to provide opportunities for enthusiastic students to conduct field research. I am interested in developing family of excited researchers working toward a common goal: carefully evaluating the difference between populations of amphibians from the ponds of the White Mountains and beyond.


Kyle Cormier
I earned my Bachelor's Degree in Environmental Biology with a minor in Earth Science. During my time as an undergraduate I assisted in a research project using DNA barcoding to facilitate plant identification. I also conducted an independent project comparing invertebrate diversity between upland and wetland habitats. After graduating, I volunteered with North County Land Trust and Mount Grace Land Trust, performing GIS analysis, field GPS, and land stewardship. Kyle is also actively engaged in insect surveys wherever he goes and herpetological research at Wachusett Mountain and the White Mountains. Kyle is an active board member with Friends of Wachusett Mountain, and has presented his projects at local research conferences.
Additional Information
2017 Egg Experiment. We will place wood frog eggs in floating baskets so they can develop with maximum exposure to sun in the relatively cold Lower Lake of the Clouds. For more information, please see Lab Notes from June 8, 2017.
---
Project Backers
8

Backers

15%

Funded

$403

Total Donations

$50.38

Average Donation